Meet 2019's Best American Pinot Noir
19/12/2019
2012 Ca' Del Grevino Pinot Noir grabbed the Best in Show by Country (USA)
2012 Pinot Noir by Ca' Del Grevino won the "Best in Show by Country (USA)" along with a Gold medal at the 2019 China Wine Competition held in Shanghai on 4 November.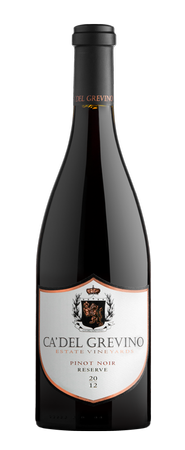 Pinot Noir, grown around the world is considered one of the most difficult grapes to cultivate, requiring diligence and skill in the vineyard. When grown and vinified properly, it produces elegant, delicate wines that reflect the terroir of the vineyard. Ca' Del Grevino has 31 acres of Pinot Noir planted in their vineyard, uniquely suited for ripening this difficult varietal. When harvested, there are beautiful aromas surrounding the crusher.
Made by winemaker David Addamo, 2012 Ca' Del Grevino Pinot Noir is garnet in colour. This wine contains aromas of raspberry and fresh pine trees. It has got notes of white pepper at the finish with a nice rounded mouth-feel and structure. 2012 Ca' Del Grevino Pinot Noir is barrel-aged in 100% New French Oak for over 12 months, giving the wine structure and creamy vanilla tones on the palate. This Pinot Noir is fruit-driven, possessing a creamy texture.
Ca' Del Grevino, nestled in California's prestigious Santa Maria Valley in the Central Coast - has a unique microclimate of the valley that creates cool mornings and long warm afternoons. The combination of Ca' Del Grevino's highest quality fruit and obsessive attention to detail produce their award-winning Pinot Noir, Chardonnay, Riesling and Syrah wines.
To evaluate the entrants, the China Wine Competition invites a leading panel of top-level wine industry experts where wines are judged on the three parameters of Quality, Value, and Packaging.
The China Wine Competition, organized by the Beverage Trade Network, a leading platform that connects the alcohol beverage world - is the leading wine competition in China that looks to recognize, reward, and help promote beer brands that have successfully been created to identify and target a specific wine drinker.
To check out other winners, click here.
To know more about the competition, click here.